Log/Stats (Operations panel)
The operations panel displays a journal of important events since the beginning of session. It also shows statistics for the stage and give access to Operations. To see all events captured since the stage was created, scan the geco.log file.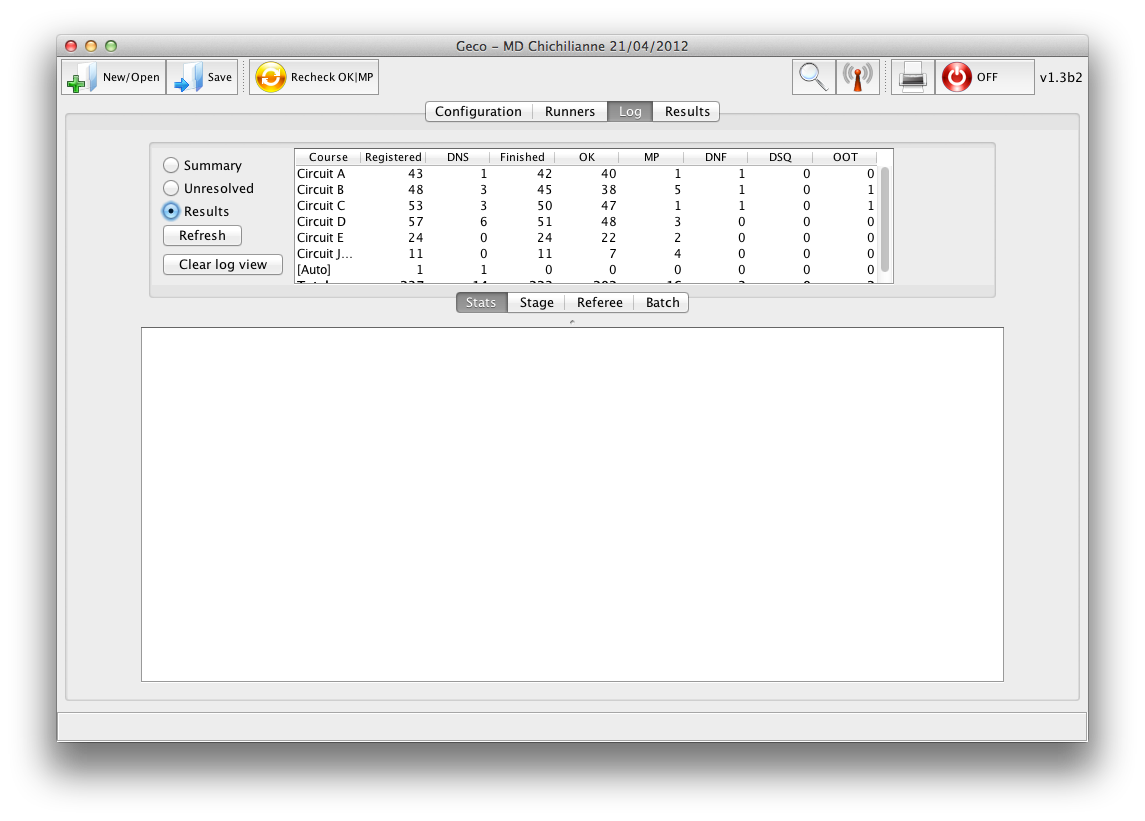 The statistics pane displays the number of runners per status for each course as well as for the total. There are three views for statistics :
Summary to see the essential information during the stage
Unresolved to only see status to resolve before the end of stage
Results to see the detailed statistics after the stage
The summary displays the following status :
Present: runners who ran or are running (all registered minus DNS)
Unresolved: entries which require your attention, especially when dealing with End of Stage; Not Started, Running, Unknown, and Duplicate statuses are all considered unresolved
Not Started: runners registered but without race data for now. Toward the end of stage, mark them either as Running or Did Not Start
Finished: runners with race data and resolved, including DNF, DSQ, etc.
OK
MP: a high number of MPs early in the stage might indicate a problem with course settings (in Geco or on terrain)
The unresolved view shows:
Unresolved: totalling the next four statuses; the stage is not finished as long as this state is not zero
Not Started: registered runners without race data
Running: runners explicitly marked as running but who did not read their ecard yet
Unknown: ecard read without a corresponding entry
Duplicate: ecard read multiple times
The results view shows:
Registered: all runners in the registry, including presents and DNS
DNS runners
Finished: after the stage, this equals the number of present runners
OK, MP, DNF, DSQ, and OOT runners
The statistics updates automatically every 10 seconds. You can press the Refresh button to manually update the statistics.